[27 October 2014] – The Government of Vietnam recognizes the important role of Science, Technology and Innovation (STI) in sustaining economic growth and enhancing social development, and that of SMEs in economic growth and job creation. In its development strategy, it accords a high priority to building a modern STI system that is comprehensive, of high quality, and responsive to the needs of its modernizing economy and society at large. The Government also believes that STI should be utilized in addressing the disparities in society and be used for improving the quality of life of the BoP.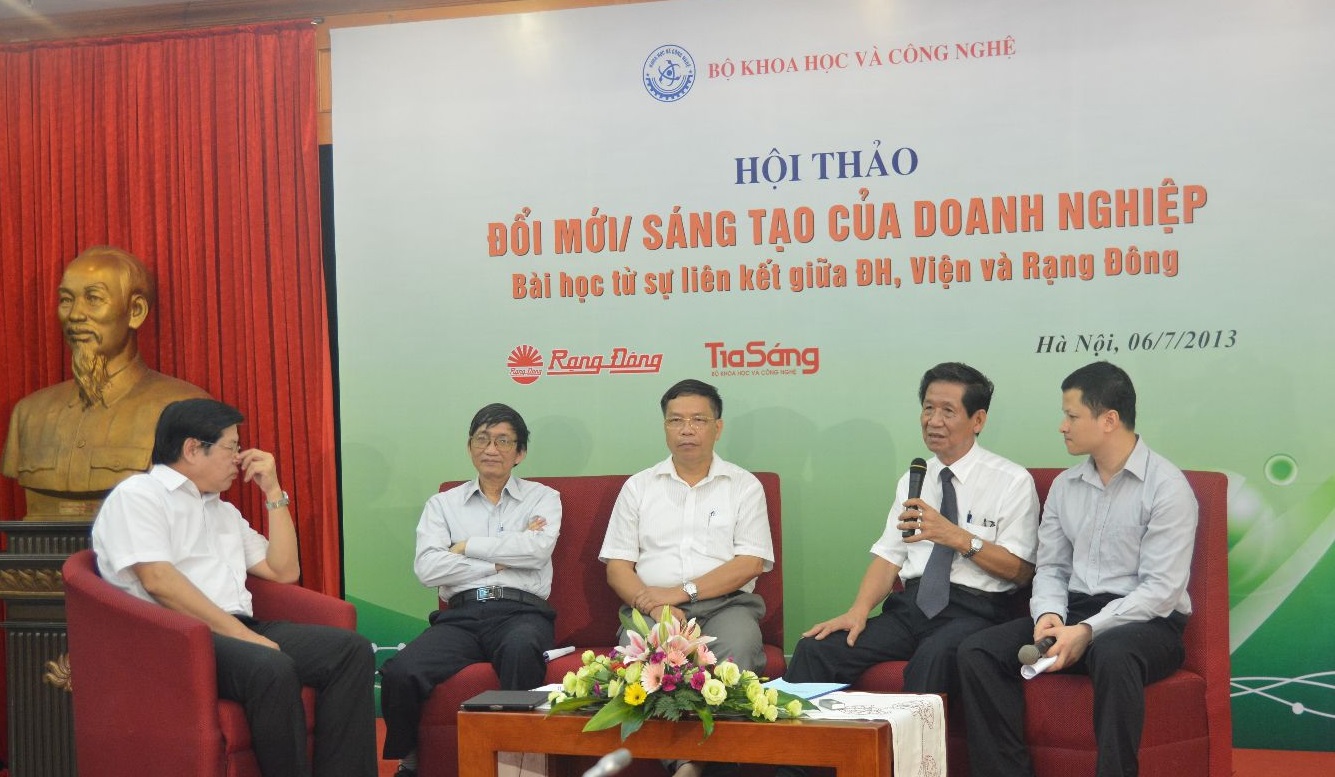 A forum by the Ministry of Science and Technology (MOST) on corporate innovation and
lessons learnt from the the linkage beween Rang Dong company and universities and research institutes
"Inclusive Innovation" is identified by senior government officials as an appropriate measure for reducing growing disparities in society and for improving the competitiveness of Vietnam by lowering costs of products, and expanding markets and opportunities for businesses. The "Inclusive Innovation" concept has been pursued by many emerging economies to address the development objectives of shared growth (e.g. Brazil, China, India, South Africa). The objective of inclusive innovation is to develop and deliver, through public and private sector initiatives, high-performance products and solutions at a low cost that are affordable to, and benefit, the resource-poor or BoP people.
In this context, the World Bank has supported Vietnam with the implementation of the "Inclusive Innovation Project. The Development Objective is to adopt, upgrade and develop inclusive innovations for the benefit of the Base of Pyramid population (BoP) . This will be achieved by strengthening Vietnam's capacity to undertake inclusive innovation, including financing the development, adaptation, adoption, scaling up and commercialization of inclusive technologies, and improving RDIs' and SMEs' technological and innovation capabilities.
It is expected that affordable quality technological solutions developed through this project will be made available to improve the quality of life of the BoP (low-income) population. This pilot project on Inclusive Innovation will involve strong collaboration among government agencies, private sector enterprises, entrepreneurs, research and development institutions and global partners.
Economica Vietnam has been commissioned by the Project in developing the monitoring and evaluation framework for the project. The M&E system will be used by the project management unit, its implementation units and other agencies in monitoring the progress and the achievement of project outputs, outcomes and impacts.

Project evaluation and monitoring is one of the main competency area of Economica Vietnam. Recently, Economica Vietnam has supported many projects and donor agencies, e.g. the WB, GIZ, DANIDA, ILO, AFD, etc in mid-term project review, final project evaluation, documentation of lesson learnt, knowledge management, project formulation with strong use of the knowledge and skills on M&E. The firm also offers training course and capacity buillding activities on M&E to different development projects.