[5 May 2014] – Business and cooperative associations working in those sectors have an important role to play in facilitating new opportunities and approaches to harness market dynamics for equitable growth. A number of business associations are increasingly able to represent the interests of their members internationally and domestically; however, most still lack capacity in key functions including engaging their members to formulate sector strategies and standards, providing market information to members, sourcing information to potential buyers, and advocating with government on policies that would impact their members and sectors.
In response to the above, The Asia Foundation (TAF) in Vietnam implements a three-year program entitled Effective Business Associations for Dynamic and Inclusive Growth. The program aims to strengthen Vietnamese business and cooperative associations' capacity to work effectively with their members to support improved policy making and equitable growth. The program includes two components (i) enhance capacity of Vietnam Business Associations (VBAs) to support their members and contribute to evidence-based policy making; and (ii) improve the ability of cooperative associations for policy advocacy and support to cooperative for income generation.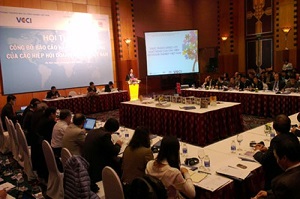 Economica Vietnam has been commissioned by The Asia Foundation to lead the research team to work with TAF and the VCCI network of business associations to identify good practice examples in the Vietnamese context for key areas of business association operation. Economica Vietnam also support to the establishment of an effective VBA self-assessment tool to identify capacity building priorities and strategies.
A desk review of the studies and reports on business associations in Vietnam have been completed. A focused group discussions with key experts on business associations and selected association was also held in which Economica Vietnam presented key findings and proposal for the next steps.
The field trip to various provinces and interviews will be implemented from May 2014 and final products and report will be made available to the public by the end of the year.