[6 June 2019] —  Businesses play an important role in ensuring environmental protection and the sustainable development of Việt Nam, experts said at a forum in HCM City in early June 2019.
Though pollution levels remain high in the country, many businesses still have inefficient waste processing systems or are not environmentally responsible, according to a representative from the city's University of Natural Resources and Environment. The state's monitoring of this issue remains limited as well, the representative added.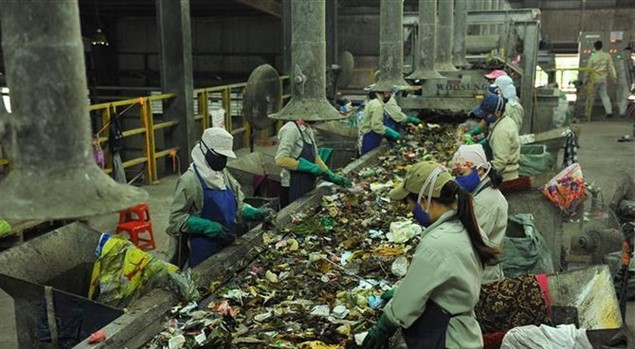 Processing of solid waste remains insufficient, water pollution at industrial parks is a major issue, and small businesses are not able to process their waste efficiently.
Nguyễn Thế Chinh, rector at the Institute of Strategy and Policy on Natural Resources and Environment, said that use of modern technology at companies was not as prevalent as in other countries, while production from industrial clusters and facilities contribute greatly to pollution. Serious environmental accidents have also occurred.
Though businesses are big producers of waste, they can also provide methods to protect the environment and contribute to a green economy, he said.
More businesses, for example, are becoming environmentally friendly, with green products and green practices, such as a number of supermarkets now wrapping vegetables in banana leaves instead of using plastic bags.
Numerous policies on capital, tax, land and training have been devised to encourage environmental protection.
Chinh noted that being environmentally friendly helps businesses create a safe working environment, reduces costs related to their resource usage, and boosts their brand image and competitiveness.
Since such activities reduce harm, encouraging businesses to go green is crucial for sustainable development.
Businesses should also seek out new technologies and production methods for more green products, and raise awareness among their workforce and managers, he said.
The Government needs to improve regulations related to natural resources, environmental protection and climate change, push for more science and technology programmes, and promote the role of businesses in technological development, he added.
The forum was held by Natural Resources and Environment (Tài nguyên và Môi trường) Magazine under the Ministry of Natural Resources and Environment, which is preparing an Action Month for the Vietnamese Environment on the occasion of World Environment Day.
According to a report from the ministry last year, Việt Nam produces over 23 million tonnes of household waste annually, with over seven million tonnes of industrial solid waste and over 630,000 tonnes of hazardous waste.
A 2011-20 state campaign to protect the environment for sustainable development aims to have clean water access for 95 per cent of urban citizens and 90 per cent of rural citizens.
It also targets proper treatment of more than 80 per cent of hazardous waste and nearly all of medical waste, and forest cover of around 45 per cent. — VNS