[4 September 2018] — Combining knowledge and research results among scientists, institutes and business schools is key to developing the science and technology (S&T) market in Việt Nam.
This was one of the main points discussed at a forum held by the Ministry of Science and Technology (MoST) recently.
"In order to contribute to the development of S&T markets and to create a favorable environment for participants joining the market, linking and promotion activities in order to enhance technological commercialisation are very important," said deputy minister Trần Văn Tùng.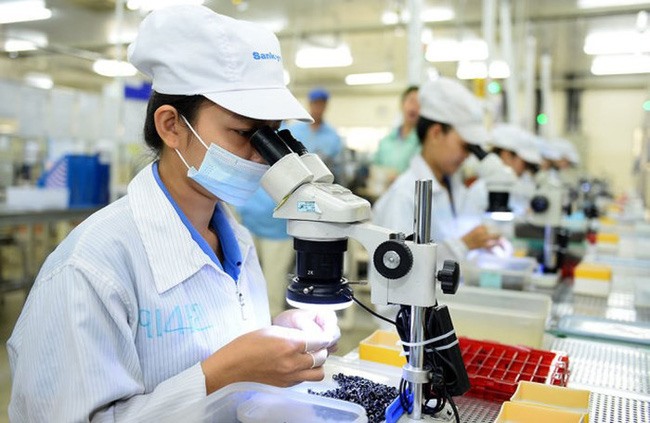 Right now, intermediary models create opportunities for investors to find inventions and research results that are commercially viable to serve the socio-economic development of Việt Nam, according to Tùng.
He believes the legal environment for S&T market is complete but not enough is done to meet demand of parties involved S&T market.
The connection between research institutes, universities, and enterprises with producers, distribution and trade is limited.
He feels intermediary organisations are not strong enough to provide connection services and support parties in transactions related to technology and intellectual property.
"The trading floor has operated ineffectively to attract and gather domestic and international technology," Tùng said.
The deputy minister said the forum was an opportunity for scientists and experts to share experience to find specific solutions for S&T development.
At the meeting, Vũ Tiến Lộc, chairman of the Việt Nam Chamber of Commerce and Industry (VCCI), said survey results in 10 industries in 2016 revealed nearly 60 per cent of enterprises were using six-year-old technology.
Therefore, technological innovation was in urgent supply, especially as the industrial revolution 4.0 would enhance the competitiveness of Vietnamese enterprises.
Many businesses were aware of this problem and have been implementing activities to renovate technology, he said.
To support enterprises, the ministry has conducted many programmes and projects to support scientific research.
However, the reality was the market for science and technology in Việt Nam has not really grown to help businesses find and buy technology which they needed.
According to a recent study conducted by the FIRST-NASATI project, almost 85 per cent of enterprises conducted their own researches to acquire new products.
Nearly 14 per cent of enterprises have collaborated with outside units to carry out research to renew products.
Therefore, the linking for knowledge transfer, research results between scientists, institutes and schools for enterprises could be considered as the decisive factor for the development of the science and technology market in Việt Nam.
"There should be a specific linkage model for science and technology to directly contribute to business efficiency of enterprises as well as to maximize the role of parties such as research institutes, organization, schools and enterprises," said Lộc.
VCCI hoped to set up an association of scientific and technological enterprises and intermediaries to help develop the science and technology market in Việt Nam, he said. - VNS