[8 November 2018] — The country's shift towards a globalised economy will be driven by the strength of its workforce, according to company Michael Page Vietnam specialising in search for professionals at middle management to leadership levels. Tamara Boonstra, its director, said: "Companies are grooming Vietnamese employees to step up to senior leadership positions." 
Senior professionals with the right mix of expertise and experience in strategic thinking, digital media and business intelligence would be in demand and able to command the best compensation, she said. "They will ultimately be able to accelerate their career while making significant contributions to businesses in Việt Nam."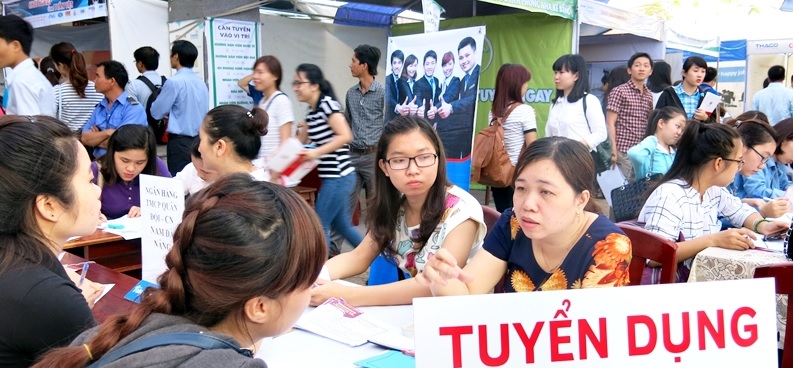 Multinationals and fast-growing local conglomerates and start-ups were specifically seeking senior leaders and chief executives with the right mix of insights and innovative business skills, she said.  "In this market, Vietnamese language and cultural knowledge is essential. Local Vietnamese professionals are attractive to employers because they understand consumer behaviour and relevant strategies best."
Trần Xuân Thủy, head of seller operation at Lazada and country manager at Alibaba Vietnam, concurred with Boonstra, saying multinationals do want to recruit local employees for key positions, "But in Việt Nam, they cannot."  He, and others attending a round-table conference on how to build the capacities of senior executives in HCM City yesterday, listed some of the problems faced by companies in hiring Vietnamese for senior executive positions.
Lazada and Alibaba Vietnam were examples of this inability to find local executives, he said, explaining "the number of professionals with expertise in the digital sector is not high, and what there are often cannot communicate well in English".  Thus, companies had to hire top executives from other countries and train local employees, he said.
Đinh Kim Nhung, head of human capital at Masan Group, said: "It is more difficult for Vietnamese companies to recruit locals for senior leadership positions." Seeking and developing them was a headache that had existed for a long time, she said. Vietnamese executives "are not open" to listening to advice from other people to improve their company's operations, she claimed. "They often think the methods they used to achieve success at former companies could be replicated at their new places, whereas every company has a different environment," she said.  "It is important that they should adapt to the working environment to help increase value for their company."  Her company uses a strategy of "buy, build, and borrow", meaning they use jobs companies to find the candidates they need, develop their employees to become future leaders and also hire and train students and hire experts from other countries to train their employees for one or two years.
According to Michael Page Vietnam, local professionals who secure a job move can command a 15-20 percent salary increase.
The intense competition for talent has created such strong demand in the market that top candidates often get multiple job offers.  Employers have to offer career progression opportunities and attractive salaries and streamline their recruitment process to secure the highly qualified professionals.  Boonstra said companies should offer learning and growth opportunities to retain talent and think outside of the traditional profile to identify talent.  They should make plans for the next generation of leaders and how to prepare them now, she said. According to her company, the key for local professionals is to develop themselves in areas where there are skill shortages.
A majority of hiring opportunities are available in Việt Nam's fastest growing industries like property, digital/fintech, manufacturing, and fast moving consumer goods.
The top four recruitment demands are for operational managers for procurement and supply chains, human resource business partners, business controllers in the finance sector, and head of business intelligence in the digital sector.—VNS