Standard Cost Model (SCM) a method to measure and reform administrative procedures has been introduced under the national Administrative Reform Project (Project 30) in a training course organized by the Special Taskforce of the Project 30 (STF) on 9 November 2009. This is also an important cooperation activity between STF and IFC under the IFC Business Licensing Procedure Reform Project. By using SCM, the administrative costs of administrative procedures which are being under reviewed by STF and ministries will be quantified in monetary terms. Thus, SCM helps produce additional arguments to support the decision of simplifying or removing administrative procedures for the benefit of the business and the society.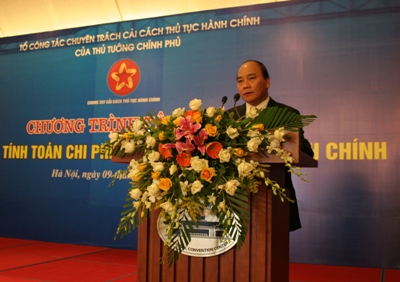 Mr. Nguyen Xuan Phuc, Minister, Chairman of the Government Office, delivered the opening speech at the training course
The training course was delivered to 250 members of Project 30 working groups in different ministries and experts. In his opening speech, Mr. Nguyen Xuan Phuc, Minister, Head of the Government Office emphasized the need of quantifying the costs of complying with administrative procedures, saying that it is an important factor to support the reform process. In the capacity of IFC's experts, Economica designed the SCM model to be applied under the project. It also designed and delivered the training course. On the basis of comments obtained at the course, Economica will further revise the SCM spreadsheet model and produce an user's guideline to support the use of the spreadsheet in the future. Read more.