[5 October 2019] — At a conference to launch a campaign on building Vietnamese corporate culture, Hồ Anh Tuấn, head of the campaign to build Vietnamese Corporate Culture, said building a corporate culture was the foundation for sustainable development, branding and competitive advantage for a business.
The campaign was launched by the Prime Minister to raise awareness among agencies, departments and the business community about the importance of corporate culture for sustainable development.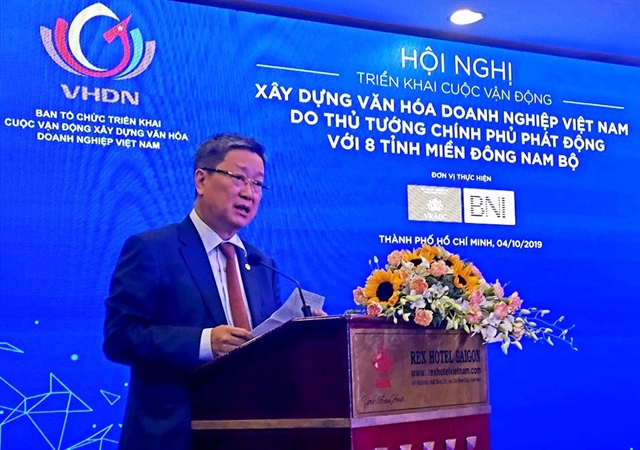 The establishment of Vietnamese corporate culture focuses on building a business environment that complies with the law, upholds business ethics and social responsibility, and promotes healthy competition and proactive international integration.
Lê Doãn Hợp, former Minister of Culture and Information, and permanent member of the organising committee, said that building a corporate culture must start with the leaders. They must appreciate the importance of a corporate culture and promote democracy by creating corporate cultural values.
To build a corporate culture, businesses must build a set of corporate regulations, have transparency in information and perform their social responsibilities, including payment of taxes, ensuring quality of products and services and protecting the environment, Hợp said.
Vũ Thị Hoài Nam, vice president and senior regional manager of Manulife Vietnam, said that leaders had an extremely important role in building and practising corporate culture. If leaders do not care or take seriously these cultural values, it would be impossible to convince staff to perform, causing both them and customers to lose faith in the value of the business.
Experts also said that building a corporate culture was not easy because each business was made of individuals with different qualifications, skills and personalities.
Many enterprises had shown interest in building a corporate culture but not many know how to. Building a corporate culture needed solidarity among all members of an enterprise, they concluded. - VNS