[9 August 2020] — Micro, small, and medium-sized enterprises (MSMEs) not only provide livelihoods for the most vulnerable communities, but also are leading contributors to many economies in the ASEAN. Tuan Vu from Oxfam and Aurora D. Geotina-Garcia, chair of the Philippine Women's Economic Network, call on the bloc to place MSMEs at the centre of its economic recovery.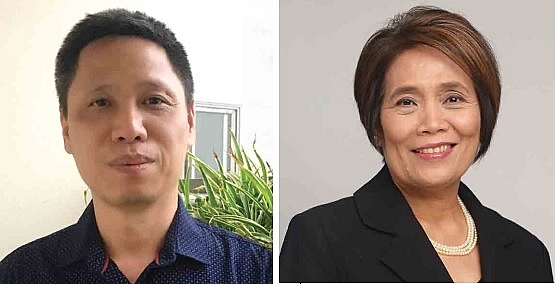 Tuan Vu from Oxfam and Aurora D. Geotina-Garcia, chair of the Philippine Women's Economic Network
There's no doubt that COVID-19 has hit ASEAN economies hard. With the pandemic continuing to escalate around the world, the predictions of economic losses keep mounting – the economies of East Asia and Pacific excluding China are forecast to contract by 1.2 per cent in 2020. Singapore, Thailand, Malaysia, and the Philippines could be hit particularly hard with contractions of 7, 7.7, 3.8, and 3.6. per cent respectively, according to the International Monetary Fund and government sources.
Resulting job losses and reduced income will affect 41 million people in East Asia and the Pacific, including the ASEAN, according to the World Bank. MSMEs have been at the heart of ASEAN prosperity, accounting from 88.8 to almost 100 per cent of enterprises in member states. Around 52-97 per cent of nations' total employment is provided by MSME's and they account for 42.2 per cent of gross value added to the economy. These enterprises are among the worst affected by the pandemic both economically and socially.
Negative impacts are borne by most vulnerable groups like migrant workers, women, and people in remote or less developed areas. They often rely on smaller businesses for employment and product and service delivery as bigger businesses are unlikely to reach them.
The ASEAN Business Advisory Council (ABAC) has called for the inclusion of MSMEs in ASEAN and member states' recovery plans through provision of social safety nets for most vulnerable businesses and their workers and advancement of MSME interests as we define a new and transformative normal. The ABAC, established to provide private sector feedback and guidance to boost ASEAN efforts towards economic integration, made these calls in response to leaders' declarations.
While member states have already put stimulus packages in place with social protection for people and inputs to businesses, much stronger and more focused inputs are needed to reach the most vulnerable – especially MSMEs and communities that rely on them. With MSMEs being interdependent and people often underserved by big businesses, these inputs will go a long way in cushioning socio-economic blows upon the people of the region who need help the most.
Despite gloomy circumstances, we believe that MSMEs have what it takes to quickly recover from COVID-19 because of their flexibility and adaptability to changing environments. And because MSMEs participate in various levels of supply chains and enable healthy market competition, they and bigger businesses can provide a strong foundation for national economy recovery.
To harness the full potential of MSMEs in supporting this, a more conducive environment that will enable MSMEs to quickly adapt their business operations to a new normal is required. "A better normal for business," an Oxfam in Asia report, details this and other recommendations on how the ASEAN's smaller enterprises can recover and thrive during and beyond COVID-19.
A seamless flow of trade in domestic and regional markets and appropriate operating guidelines and facilitation for safe reopening of business operations are essential pieces of the puzzle, along with support for adaptation for smaller businesses in need. Direct and specific financing flows for MSMEs are critical for insulating them from being crowded out and dominated by the big companies and their interests.
MSMEs' capacities require upscaling, and opportunities must be created for growth. This can be achieved within a context of a cohesive ASEAN common market to be promoted as a safe and attractive investment destination for global value chains that were disrupted by the pandemic. Support for business digitalisation to facilitate adjustment to consumer and market changes and a transition to e-commerce too will be useful. Most importantly, MSMEs should be encouraged and enabled to shift to more resilient business development models.
Finally, maximum possible support must be invested in current and future wellbeing of both formal and informal MSME workers. Adequate healthcare and unemployment insurance coverage should be expanded where these are still not universally available. Informal businesses must be supported to become formal and legitimate enterprises without imposing additional administrative and/or financial burdens on small enterprises. Workers need new and enhanced skills to adapt to change and maximise the new opportunities.
Targeted programmes to reach women and other disadvantaged groups are critical, particularly for those on daily wages and in remote and less developed areas. As the voice of the private sector in the ASEAN, ABAC can build upon its calls and amplify recommendations to leaders on enabling MSMEs to be included in the bloc's Regional Economic Recovery Plan and follow-up action.
In building a fairer and more sustainable economy, MSMEs that adapt to a new normal transforming into businesses with more innovative, resilient, and responsible ways of working can contribute to a stronger and healthier ASEAN. An ASEAN where all communities are safe, the environment is protected and resilient, women are on an equal footing, and all workers can make ends meet and live with dignity.
Such a new normal can only be achieved by enabling "globally competitive, innovative, Inclusive, and resilient MSMEs," as envisioned in the ASEAN Strategic Action Plan for SME Development - Vietnam Investment Review.