[4 Jan. 2013] - With funding by DANIDA, the Business Sector Programme Phasing-out Support was initiated in January 2011 and is approved for three years of implementation within a total budget of DKK 123 million. The programme consists of three components: (i) Global Competitiveness Facility (GCF) of DKK 63 million; (ii) Improved labour conditions in private enterprises of DKK 50 million; and (iii) Business Sector Research DKK of 9 million.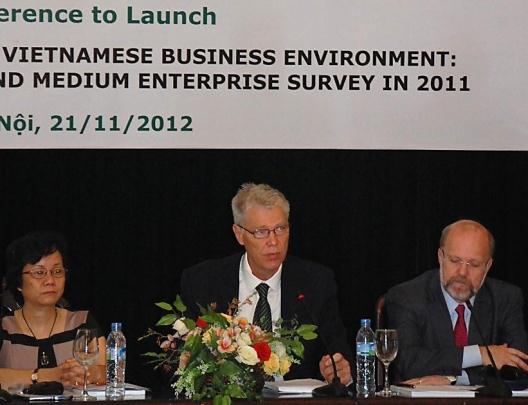 All three components represent continuation of activities under the first phase of the Business Sector Programme 2005-2010. Component 1 builds on the experience of phase one support to business development services and provides support to technical and business innovation for export-oriented companies. Component 2 provides co-funding to the National Programme on Labour Protection and Occupational Safety and Health (NP-LPOSH) and Component 3 aims at strengthening business sector research capacities and continues the collaboration between Central Institute of Economic Management (CIEM) and Department of Economics at the Copenhagen University. CIEM is also the institution with overall responsibility for programme implementation on behalf of the Government of Vietnam (GoV).
This mid-term review is the first review of the Business Sector Programme Phasing-out Support. The review is based on progress reports up until mid-2012, information obtained through interviews with the Danish Embassy, partners and field visits to three priority provinces (Can Tho, An Giang and Dak Lak). The Review was conducted by a team including representatives of the Danish Ministry of Foreign Affairs as Team Leader and consultants from PEMconsult (Denmark) and Economica Vietnam (Vietnam).
Progress review is one of the major areas of expertise of Economica Vietnam. In recent years, the firm has cooperated with many international consulting companies in implementing project evaluations, project progress review, impact assessment for different projects funded by the Government and international donor agencies in Vietnam.
The review was completed in early December 2012.