[1 Jan. 2018] -  According to the General Statistics Office (GSO), in the fourth quarter of 2017, 44.8 per cent of firms reported better business performance in Q4/2017 than Q3/2017. This was reported in the GSO's Business Sentiment Survey of manufacturing and processing enterprises in the fourth quarter of this year. In addition, 36.5 per cent of businesses said their business situation was stable, and 18.7 per cent of businesses said it was still difficult.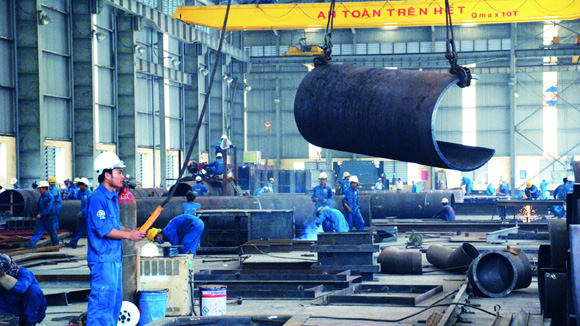 Forecasting business prospects in the first quarter of 2018, 48.2 per cent of businesses were optimistic that the trend would improve, 35.7 per cent of businesses believed business would be stable and 16.1 per cent of enterprises predicted more difficulties.
Data from the GSO show that in 2017, the improved business environment along with the business opportunities in the integration trend had boosted the spirit of start-ups, as the number of newly established enterprises nationwide reached 126,859 companies, with a total registered capital of VNĐ1.29 quadrillion (US$56.6 billion), up 15.2 per cent in number of enterprises and 45.4 per cent in registered capital compared to 2016.
In addition, 26,448 businesses came back to the economy, bringing the total number of acting companies to more than 153,300 and the total number of newly registered jobs to 1.16 million.
But in the context of fierce competition, small businesses are still vulnerable, with 60,553 businesses needing to temporarily halt operations this year. The number of enterprises completing dissolution procedures was 12,113, decreasing 2.9 per cent against the previous year, of which 11,087 enterprises had capital below VNĐ10 billion, accounting for 91.5 per cent of all small businesses. — VNS