[4 September 2017] – The World Bank (WB) just released its bi-annual report on Viet Nam's economy, keeping its country GDP forecast at 6.3 per cent this year following an economic boost in the second quarter.
After a disappointing performance in the first quarter, Viet Nam's economy kicked on in the ensuing three months, with an estimated GDP of 5.7 per cent in the first half of 2017.
"Viet Nam's economy is strong, as a result of strong momentum of Viet Nam's fundamental growth drivers – domestic demand and export-oriented manufacturing," said Sebastian Eckardt, lead economist and acting country director for the WB in Viet Nam, at a press conference in Ha Noi early September.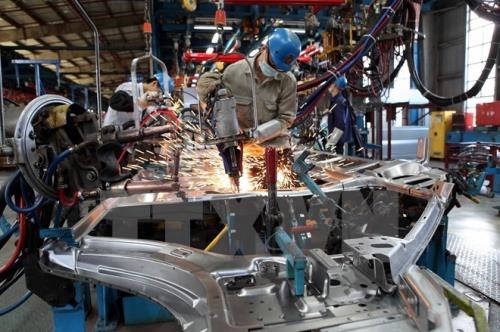 "These are good conditions to address critical structural bottlenecks to medium term growth while solidifying macroeconomic stability and rebuilding policy buffers."
Manufacturing and retail trade were the two biggest contributors to GDP growth in the first half of 2017 at 1.8 and 0.6 percentage points respectively, according to the report.
Viet Nam also demonstrated exceptional export performance, ranking higher than neighbours in the export index with far greater scores than other countries like China, Singapore, the Philippines, Malaysia and Indonesia, said the report. Those countries' exports merchandise growth in 2015 and 2016 were negative while Viet Nam's reached 7.9 and 9 per cent, respectively.
The WB projection for Viet Nam's GDP growth is significantly lower that the country's target of 6.7 per cent, while the International Monetary Fund last week also lowered the GDP outlook for Viet Nam from 6.5 to 6.3 per cent.
The WB also projected the inflation rate to hover around 4.5 per cent in 2017 and 2018.
Public debt, calculated by the Ministry of Finance, this year will likely break the red line of 65 per cent of the GDP drawn by the National Assembly, and increase to 65.4 per cent in 2018, according to the WB.
The WB suggested that the Vietnamese Government consider solidifying macroeconomic stability and rebuilding policy buffers while trying to lower the fiscal deficit and contain risks from rapid credit growth.
In the long term, sustaining rapid growth and reducing poverty will be the biggest challenges for Viet Nam, the WB said. — VNS