[4 August 2017] –   At the Vietnam Private Sector Forum 2017, Prime Minister Nguyen Xuan Phuc reaffirmed the government cabinet meeting that the government will remove all impediments and prejudice against private firms and that "All efforts must be made to hit the target of 6.7 per cent this year."
The government estimated that the agricultural, industrial-construction, and commercial-services sectors are expected to grow by 3.05, 7.91, and 7.19 per cent, respectively, in 2017.
"The Vietnamese investment climate has been significantly improved and investors and enterprises are more confident," Phuc added.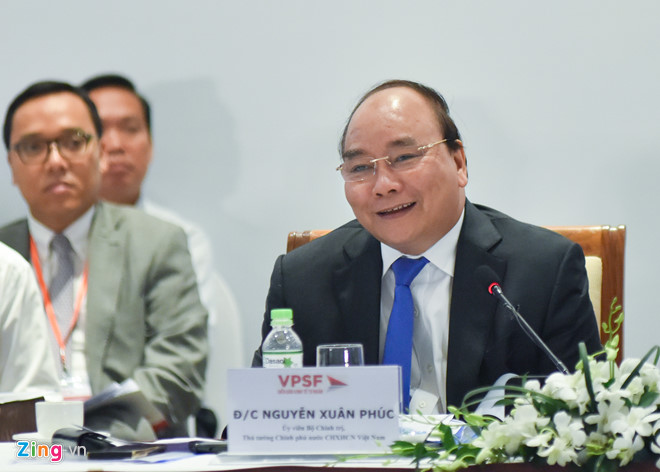 At the the second Vietnam Private Sector Forum 2017 in Hanoi , chaired by the prime minister and attended by representatives of about 1,000 private firms in Vietnam, an on-site survey was conducted about firms' confidence in Vietnam's economic prospects. Results showed that 56 per cent of respondents believe their business performance will "increase in 2017," and only 21 per cent foresaw "decrease in 2017."
About 52 per cent think that the government's target of seeing one million operational enterprises by 2020 is "within reach."
Before the forum was held, organisers also conducted a survey of over 245 CEOs of enterprises in Vietnam. Results showed that 61 per cent of respondents expected their firms' profit to rise this year, and 52 per cent reported that their profit climbed last year. Some 63 per cent will expand their business this year.
In a specific case, Pham Gia Nghia, director of Inico Trade and Investment Co., Ltd. in the northern province of Bac Ninh, told VIR at the forum that this firm is expanding its partner network with Japanese and Korean firms to export plastics pellets and paper trays and is also planning to open two branches in southern Binh Duong province and Ho Chi Minh City.
"We are providing products to Chinese partners and are expecting a 20 per cent rise in both revenue and profit," said Nghia. "We now have to deal with simpler administrative procedures as compared to one year ago."
Phuc also said that with the government boosting state-owned enterprise (SOE) equitisation, private firms will have opportunities to engage further in many key sectors in the economy currently controlled by the state, like electricity, telecommunications, finance, banking, transport, health, and education.
Economists from Spain-based FocusEconomics, which provides in-depth economic analysis around the world, said in a report on Vietnam's seven-month economic situation that the country's investment prospects are high since reforms underway to liberalise SOEs have improved the business climate.
On July 10, 2017, Phuc announced lifting restrictions on the foreign ownership limit in SOEs.
"Relaxing the control will enable foreign investors to enter such conditional services sectors as telecommunications, finance and banking. The government expects to raise $7 billion from share sales in the first equitisation round," said the report.
According to FocusEconomics, the positive spillover of healthy foreign direct investment (FDI) inflows into the economy will be felt in the manufacturing and construction sectors as new foreign-invested factories open.
"This, coupled with positive growth prospects for Vietnam's main trading partners, suggests that the economy will be one of the most dynamic in Southeast Asia in 2017," said the report.
In this year's first seven months, the total registered FDI hit $21.93 billion, up 52 per cent year-on-year, and the total disbursed sum reached $9.05 billion, up 5.8 per cent year-on-year.
Also during the period, Vietnam witnessed nearly 73,000 newly-established enterprises registered at $31.34 billion, up 39 per cent year-on-year - Vietnam Investment Review.