[06 May 2021] — Multinationals corporations and foreign-invested enterprises increasingly focus on sustainability in their cooperation with local suppliers, aiming at providing long-term support for small- and medium-sized enterprises to become part of global supply chains.
Vietnam is recognised as the world's leading producer of motorbikes with 3.2-3.5 million units per year. About 80 per cent of components and spare parts are domestically produced, but most of them are made by foreign-invested enterprises (FIEs). Domestic enterprises can only produce plastic parts.
While "Made in Vietnam" Nike shoes are priced at $100-200, Vietnamese parts contribute less than $10. These examples typically indicate that the participation of Vietnam in global supply chains is modest.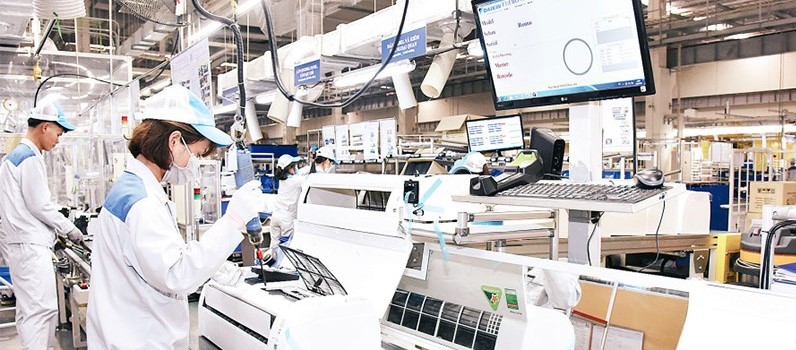 Recently, the situation has improved as more multinational corporations (MNCs) and FIEs have cooperated with their Vietnamese suppliers to promote sustainability through various practical activities, such as supporting improvements in business management and operation as well as establishing rational and efficient production processes, to support SMEs in entering the global supply chain. Coca-Cola, Heineken, or British American Tobacco (BAT) are all leading names in this trend.
A strict eye for improvement
In Vietnam, BAT is supporting its suppliers through annual quality audit, focusing on activities related to employees and working environment, helping them improve to work with BAT not only in Vietnam but in international markets as well.
Accordingly, the working environment, food security, certification of origin for raw materials, as well as operation and control processes, among others, are some of the criteria set by global BAT in selecting its local suppliers.
Meeting these criteria is a big challenge for suppliers in Vietnam, pushing them to improve themselves. According to the representative of BAT in Vietnam, before an audit, a provider only meets 57 per cent of the corporation's criteria, with common difficulties in workplace safety, lacking emergency exits, and inefficient factory arrangement.
However, under guidance and support from BAT through site inspections and online discussions, suppliers improve quality, meeting on average 93 per cent of the criteria after only two months. Normally, a supplier needs three months to meet all requirements by audit teams.
"Through the standard index by BAT, they see the shortcomings in their quality control systems as well as risk management that need improvement. All the work they put into addressing these issues is testament to their desire to participate in the global supply chain as well as the ambition of BAT to cooperate with Vietnamese suppliers," said a representative of BAT in Vietnam.
Learning from giants
Currently, BAT's partner quality assessment is done through a third party independent audit firm.
In particular, the audit team will implement two activities, including Working Conditions Assessment (WCA) and Supplier Quality Process Control (SQP). Thereby, BAT will evaluate its suppliers in many aspects, including working conditions, compliance with environmental, health, and safety (EHS) standards, and quality control process. Following the evaluation, BAT proposes solutions and supports its suppliers to quickly improve standards.
On the other hand, suppliers can also actively learn from BAT models and apply them to their business. "With our global scale and experience from multiple markets, we are ready to share our effective practices with our partners. However, partners must themselves acknowledge the usefulness of the models. For example, some partners said they can now conduct risk evaluation and management on their own to detect errors and take action. Some reached up to 82 per cent of the criteria, helping them operate in a safe and efficient manner," said the representative of BAT.
A local partner supplies only one item for BAT in Vietnam. However, if the partner shows significant improvement, BAT can consider expanding the scope of the supply arrangement.
"Through internal and external improvements, the supplier can achieve sustainable development while improving their product quality. This benefits themselves and their partners – and is a great value that BAT wants to share with all local suppliers," the representative said – Vietnam Investment Review.