[07 March 2021] — Vietnam is becoming an attractive destination for foreign investors as several of the world's largest technology corporations plan to shift their production chains to Vietnam, leading to certain changes in the structure and productivity of the labour market.
Dahashi National Labour Co., Ltd., headquartered in Hanoi's Hai Boi commune, is benefiting from the production shift from foreign-invested enterprises (FIEs). Focusing on providing seasonal, temporary, and outsourced labour, in 2020 alone, Dahashi recruited around 40,000 employees to the industrial zones in the north, an increase of 45 per cent compared to last year.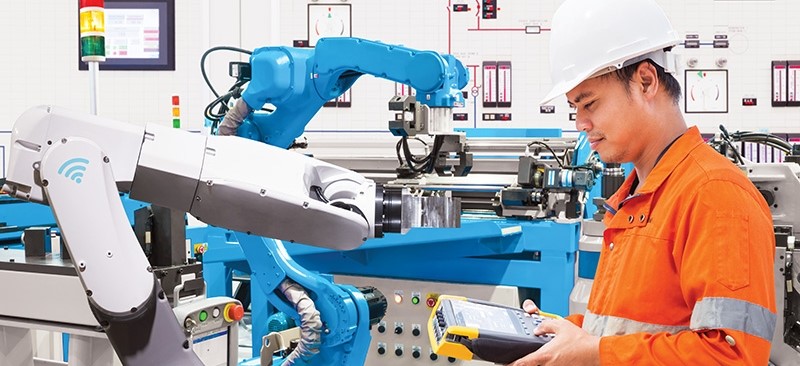 Nguyen Quoc Doan, director of Dahashi, said that the current labour demand is very huge, the problem is that the suppliers need to ensure the quantity and quality of the labour force in order to create confidence for foreign investors.
"Foreign companies, especially high-tech ones, have very strict labour recruitment requirements. In addition to certain qualifications, they often require other standards such as weight, height, vision, and behaviours in the working environment. Therefore, Dahashi must retrain employees with basic knowledge before bringing them into companies," Doan explained.
"Vietnamese workers are very hard-working, but their education, IT skills, and foreign language proficiency levels are quite limited. This makes it difficult to work with smart machines and technology at the production lines."
High risk of unemployment
According to the Ministry of Planning and Investment (MPI), Vietnam can expect to lure more foreign direct investment (FDI) in 2021 as foreign investors shift their investments towards the country. For the last 30 years, Vietnam has proven to be an attractive destination for foreign investors, creating a significant impact on market development, productivity, and workers' income.
The number of employees working in FIEs has increased from 330,000 in 1995 to roughly 6.1 million in 2019. This represents an average growth rate of 7.72 per cent during the 2005-2017 period, far higher than the labour growth rate seen in other economic sectors.
In the early period of FDI attraction in Vietnam, labourers were often concentrated in manufacturing industries such as garments and textiles, and also footwear. However, the proportion in those industries applying high technology has also been increasing rapidly, with the number of workers involved in electronics increasing from 8.03 per cent in 2012 to 15.7 per cent in 2017, leading to a more positive change in labour productivity.
Data from the Foreign Investment Agency under the MPI shows that labour productivity of FIEs in 2017 reached a total of VND330.8 million ($14,400) per worker, 3.5 times higher than the national average, and higher than the entire business sector in general, especially in terms of non-state enterprises.
FDI shifts also bring about fundamental changes in labour structure and organisation. Minister of Labour, Invalids and Social Affairs Dao Ngoc Dung said that the employment structure will tend to alter from labour-intensive fields to technology-applied industries.
Consequently, jobs in sectors that employ un- and low-skilled workers will gradually decrease as the demand for jobs that require more qualified and highly-skilled workers increases.
However, due to these changes, Vietnamese workers could be at high risk of losing their jobs. In 2019, the total number of employed workers with technical and professional qualifications only accounted for 23.1 per cent. Older, untrained, and unskilled workers will certainly face an array of challenges to retrain in order to adapt themselves to new industries.
According to forecasts of the International Labour Organization from 2019, Vietnam will face labour substitution when applying digital technology in the next 10 years, leaving up to 70 per cent of the jobs at high risk.
Chances for young workers
Despite challenges for the traditional labour market, the rise of FIEs also offers many opportunities to increase income for young workers, especially those who have been trained at universities and vocational training institutions.
Tran Quang Huy, a young engineer who has worked for six years at Samsung Electronics in the northern province of Thai Nguyen, said that he could easily find a job with a higher income level at a Japanese company based in Hanoi's Thang Long Industrial Park.. "In addition to qualified workers, many foreign companies are now willing to recruit and train unskilled workers. Even though I have an engineering degree and experience, the new company still requires skills and foreign language training for eight months," Huy said.
As Vietnam did not have many large technology corporations, many students often chose to go abroad, gather experience, and reach a higher income level.
The movement of FIEs to Vietnam could thus contribute to reducing the brain drain, helping local students access good jobs and a modern working environment and improve their skills to compete with foreign workers, especially in the high-tech industry.
To adapt to the latest trends of foreign investment and to develop a sustainable economy, the Ministry of Labout, Invalids and Social Affairs (MoLISA) announced it would continue to survey the labour market in key localities to prepare labour supply plans for new projects.
In addition, the MoLISA will also actively coordinate with the Ministry of Education and Training, as well as related ministries and agencies, to make appropriate adjustments to the domestic education and training system to properly and adequately meet the needs of new occupations.
Ta Van Thao, director of Hanoi Centre for Employment Services – which has three labour supply facilities for the northern provinces, said to welcome the new investors and companies, the Hanoi Department of Labour, Invalids and Social Affairs asked the centre to prepare and identify opportunities to connect labour supply and employment options
In addition to the increase of FIEs, many corporations in Vietnam such as Vingroup, SunGroup, and FLC Group also have the need to recruit many highly skilled and educated workers to replenish resources in areas they continue to expand such as tourism and aviation.
To be proactive in human resources for long-term development in the aviation sector, in recent years, FLC has invested hundreds of billions of VND in training including long-term training projects such as FLC University that provides international-standard education with the first "university town" model in the northern province of Quang Ninh. In 2020, FLC recruited 2,300 additional employees, with the aviation sector accounting for more than 700 employees.
"Next year we will recruit about 3,000 new employees, 30 per cent of whom will be in aviation due to the huge demand for pilots, engineers, and crew. We are researching to invest and promote more than 300 projects in nearly 60 cities and provinces," said Vo Thuy Duong, deputy general director of FLC Group – Vietnam Investment Review.